[ad_1]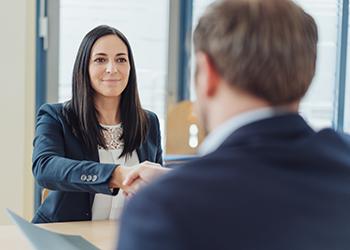 stockfour/Shutterstock
Hiring managers tell themselves stories of who they think candidates are based on objective data vetted from application materials and a subjective "feel" they get for a candidate during an interview. These stories contribute to a candidate's personal brand. And, yes, despite your eye-rolling or insisting to be viewed as a person, as a candidate you are a brand.
Employers will perceive personal brands regardless, so it's important for candidates to recognize and intentionally shape their brand.
Often hiring decisions are made as if employers are buying a coffee. They'll pass up a cheaper cup at a nearby cafe to get their familiar Starbucks coffee. Like the same two cups of coffee, two finalists for a job could have the same credentials. However, the brand makes the difference, based on the hiring committee's expectations and the candidate's presentation.
Regina Hartley, a human resources executive at UPS, puts candidates into two categories: a Silver Spoon and a Scrapper. A Silver Spoon is what employers typically desire, a candidate who graduated from an elite university before taking a traditional path to success. Silver Spoons have a brand like Starbucks. A Scrapper took a more circuitous route, with several jobs in varying industries and without the benefit of a trusted brand, but they overcame challenges to reach the same qualifications as a Silver Spoon. Scrappers are the mom-and-pop coffee shop that found a way to thrive next door to a franchise.
"A resume tells a story," Hartley said during a TED Talk, "Why the best hire might not have the perfect resume." "And over the years, I've learned something about people whose experiences read like a patchwork quilt that makes me stop and fully consider them before tossing their resumes away. A series of odd jobs may indicate inconsistency, lack of focus, unpredictability. Or it may signal a committed struggle against obstacles."
Higher education may favor Silver Spoons more than other industries, with longer trajectories to obtain terminal degrees and institutions buying into their own model. But there's also a place for Scrappers in the academy's diverse ecosystem of disciplines and functional areas.
Not all employers advocate for Scrappers as Hartley does. Hiring managers have running narratives in their heads that comfort decision-making the same way consumers flock to their favorite brands. Whether you are a Silver Spoon or a Scrapper, you need to tell a better story to strengthen your brand and distinguish yourself.
Although writing from the perspective of marketing a business, author Donald Miller's advice in his book, "Building a StoryBrand," easily applies to job seekers.
"The fatal mistake some brands make, especially young brands who believe they need to prove themselves, is they position themselves as the hero in the story instead of the guide," Miller wrote. "… a brand that positions itself as the hero is destined to lose."
Your underdog story or fairy-tale career may seem inspiring, but it won't get you hired. Rather than telling a story that screams 'Look at me: the hero!,' guide employers through a logical progression of your career in a way that leads to you solving their problems. Your story is a means to an end, not the end itself. This reasoning is also why Hartley likes Scrappers, because of something scientists call "Post-Traumatic Growth."
"(Scrappers) don't think they are who they are in spite of adversity, they know they are who they are because of adversity," Hartley said.
You may have more attention to detail because of a failed enterprise, you can better relate to first-generation college students because you were raised in a blue-collar family, or you can draw from your experiences in multiple professions to guide students.
One of the challenges Scrappers face is also being labeled as Job-Hoppers or Switchers, the latter of which is the title of Dawn Graham's book, subtitled "How Smart Professionals Change Careers."
"Your best bet is to find the commonalities between your old professional brand and your new one, and build from there," Graham wrote for her blog entry about brand-building, which outlined an approach focusing on value, audience, and differentiators, or what she called "unique selling points." "Just like coffee, there are plenty of people who do similar work and are willing to do it for less, so you've got to demonstrate how you can stand out and be the Starbucks among them."
A former senior vice president for a global PR agency, Allison Peiritsch, assistant professor of communication at Slippery Rock University, recommends an exercise to better understand your personal brand and chart a course of action. Write down three words or phrases to answer the following questions:
How do others describe me?
What does my online footprint (social media, portfolio) say about me?
How do I want others to describe me?
"The overlap between how others see you and how you see yourself is often your personal brand," Peiritsch said.
Then, Peiritsch suggests, make a list of changes you should make.
Those changes, which can include telling a better story, could be all you need to change the way employers think of you.
[ad_2]
Source link